Casual onlookers were no doubt shocked last week to see a professor at an accredited American seminary claim that homosexuality is "even more severely unnatural" than either incest or bestiality. But if you follow the debates about homosexuality and the Bible at all, you have probably encountered at some point a citation to Prof. Robert Gagnon of Pittsburgh Theological Seminary and his book,
The Bible and Homosexual Practice.
If you then decided, through genuine curiosity that you might later label unfortunate folly, to look into who this scholar is, you no doubt discovered his
website
, where he not only criticizes any published account that differs from the view presented in his book, but also responds to virtually every published review of it. Most scholars do not do this; if they have a beef with a given review or article, they
submit a rebuttal
to the publication in question, which will then publish it if warranted. Sometimes there are even
rejoinders to said rebuttals
, and so on. But in fact, it appears Gagnon has not been involved in any scholarly publication in a number of years, unless his
online CV
is in need of serious updating.
Instead, he has been making church circuits and writing e-screeds against anyone who disagrees with his take on the Bible and homosexuality, and now is involved in a splinter group of Exodus International, the (in?)famous ex-gay ministry. When some of its members
started admitting
that after years (or even decades) of their own therapy, they were still gay, Gagnon and a coterie of hard-right individuals
formed the Restored Hope Network
to reiterate their beliefs that those who are gay need therapy to stop.
After the group's first meeting, Gagnon
apparently took to Facebook
and suggested that the event was not protested by enough gays because San Francisco was having a "leather event" that was more attractive to people with a "'gay' identity." For him, that meant that the "moral of the story" was that they should "schedule the meeting during homosexual debauchery events."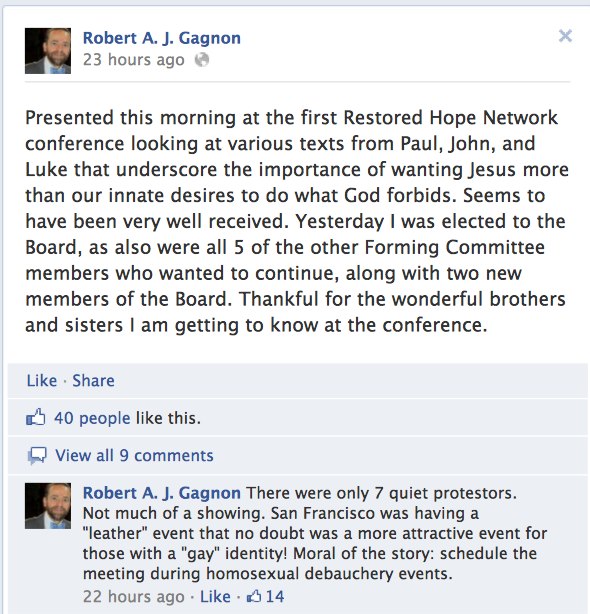 But even that was surpassed last week,when blogger Jeremy Hooper posted an
e-mail correspondence he received from Gagnon
, in which the professor argued that the Bible sees homosexuality as more unnatural than either incest or bestiality, and then defended calling gay and lesbian individuals "perverts."
Gagnon's contempt (not much "hope" here that I can see) comes through in much of what he writes. But what also comes through is his gross misuse of scholarship, especially that on gender and sexuality in the ancient world. A classicist in France, Jean-Fabrice Nardelli,
recently published
a damning review of Gagnon's work. It is worth a read, even though many might find the technical language hard to get through.
True to form, Gagnon
issued a response
, to which Nardelli
issued a withering rejoinder
. Gagnon states on his website that he will add to his response to Nardelli as "time and interest" permit, but has not responded now in ten months. Perhaps he has run out of time, but the amount of effort he appears to expend on e-rebuttals on a regular basis might lead one to believe that he does not wish to respond.
Gagnon has many sins, among them subscribing to a host of
pseudo-scientific premises
about homosexuality and biology. Many reviews have criticized his book (and again, he has dutifully, although unconventionally, responded to many of them on his website, at one point
complaining that the SBL allowed reviewers who have different theological aims as he does
, as though that should automatically disqualify them). But what has most perplexed me in reading through his plethora of digitally self-published manifestos was his repeated citation of Thomas Hubbard's
Homosexuality in Greece and Rome
.
First, some background: you'll notice that the book edited by Hubbard (a classicist) is titled with "homosexuality," while Gagnon's uses the phrase "homosexual practice." This is a key distinction that should be kept in mind, for while Gagnon utilizes scholarly material on classical views of sexuality, he does so selectively, and with an overarching aim often at direct odds with the scholarship he is citing.
Gagnon clearly believes that man and woman were created by God to be complementary, and thus heterosexual coupling is the only kind approved by God. But the classicists Gagnon cites most certainly do not agree with this overall premise. Indeed, his position is probably the one on which both sides of the aisle in the great debate about sexuality in antiquity can roundly condemn.
Like scholars of gender and sexuality more broadly, classicists have tended to sympathize more or less with either "essentialist" or "social constructionist" models, meaning that essentialists see sexual orientation as in-born and thus found across cultures and across time, while constructionists rather see that sexuality can depend largely on the culture and society in which individuals live. Classicist thought (led by Kenneth Dover's
Greek Homosexuality
) used to be roundly social constructionist, and with good reason: a large number of our texts paint for us a world in which an average man might enjoy sex with both women and young men.
However, recently scholars have looked more carefully at many texts (and ancient art) that do, in fact, seem to show an awareness of in-born, same-sex attraction. So the field remains somewhat split, and the arguments that break out can get rather heated. (Hubbard's
review
of constructionist David Halperin's book, whether one deems it fair or unfair, is nonetheless immensely entertaining reading on this score.)
What they would probably all agree on, however, is that Gagnon's overall view of sexuality is very strange. Social constructionists would find his notion that we were "created" for exclusively male-female sexuality to be at odds with what they see in the historical evidence: that normative sexuality, at least within some time periods of antiquity, included having both female and young male partners. Essentialists, meanwhile, are interested in those ancient texts that suggest in-born "categories" precisely because, they would argue, those categories (loosely defined) appear to be largely trans-historical and trans-cultural -- in other words, if these texts indicate there were people we might categorize as gay or lesbian living 2,000-3,000 years ago, it would seem to indicate consistent orientation across time and across cultures. Put another way, if God has been creating gay people for thousands of years, how can it be considered some aberrant, perverse deviation?
Note how neither set of scholars, nor even your run-of-the-mill classicist who probably finds resonance in both models, finds evidence that squares very well with Gagnon's overall view, which seems to utilize evidence of in-born, "natural" homosexuality in the ancient world while simultaneously claiming it is "unnatural" or "perverse." So God clearly does make gay people (note Gagnon's remarks on "innate desires" in the Facebook post above) but then roundly condemns them for it. Surely someday, when our history of sexuality is written, this will be considered the asinine, flailing death throes of anti-gay rationalization.
But Gagnon needs the evidence of essentialist classicists so he can hope to demonstrate that Paul knew of and conceived of homosexuality in much the way we do, and thus condemned the same sort of homosexuality that we conceive of and increasingly accept in our society. Gagnon therefore makes much of essentialist arguments and evidence, which is why he cites Hubbard's book so often (he does this over and again, and always refers to it as his "magisterial" book -- seriously, Google
Gagnon Hubbard Magisterial
and you'll find this phrase regurgitated time and again).
But Hubbard's sourcebook (which I agree is quite magisterial) is just that -- a sourcebook. It is an invaluable resource (it's sitting on my desk as I type this), but it is not a monograph, and does not attempt to make an over-arching, conclusive argument about sexuality in antiquity (this is to Hubbard's credit; that is not what he is aiming to do). While Hubbard introduces each set of texts with his own overview, which often betrays his own convictions, he does not stray from citing those sources that do not adhere to an essentialist viewpoint. A key example of this can be found in a section often cited by Gagnon, where Hubbard refers to a set of texts that "reflect the perception that sexual orientation is something fixed and incurable" (p. 446). Of course, Hubbard goes on to note that "two texts from this period show sexual orientation as a matter of relative indifference," citing Artemidorus and Philostratus, who seem to recognize no real sense of categorization between homosexuality and heterosexuality. That's the difference between honest scholarship, what Hubbard practices, and snake-oil chicanery: an honest assessment acknowledges the evidence that complicates or even contradicts a given view. Gagnon never appears to bother with that.
Gagnon's repeated citation of Hubbard also attempts to elide the very real issues of terminology among classical scholars with respect to "homosexuality" in the first place. As Hubbard's
very first sentence
in his book states: "The term 'homosexuality' is itself problematic when applied to ancient cultures, inasmuch as neither Greek nor Latin possesses any one word covering the same semantic range as the modern concept." This is echoed in the latest edition (just out in last year) of the
Oxford Classical Dictionary
, which again, as it has in previous editions, advises: " ... particular caution must be exercised in order not to import modern sexual categories and ideologies into the interpretation of ancient evidence. ... The application of 'homosexuality' (and 'heterosexuality') in a substantive or normative sense to sexual expression in classical antiquity is not advised."
The OCD is taking a more social constructionist standpoint in comparison with Hubbard, yet both acknowledge that overall, the ancients did not think
exactly like us
about sexuality any more than they thought exactly like us on anything else, so as always, care is needed when making comparisons between them and us.
The problem is that, even if there were some notions in some quarters of a fixed and in-born sexual orientation toward people of the same sex in antiquity, that is not the same as showing that many or even most people conceived of it as such, or that, again, they conceived of it in the same ways we do. We have whispers of thoughts about in-born sexual orientation, but we have many other sources saying things very different. So whatever Paul had in mind when wrote of ἀρσενοκοίται -- a word he seems to have invented, or derived from the
Greek translation of Leviticus
(it
is
interesting that he does not use many of the other words, often derogatory terms, available in the classical corpus that dance around the definition he might be trending toward) -- what's patently obvious to most people is that he did not conceive of sexuality in the exact same way we do, with our modern science, medicine, and psychology. How could he? We moderns did not begin to conceive of it in precisely the ways we do now until recently.
Herein lies the conundrum of classical scholarship on sexuality, indeed the conundrum of all scholarship on the ancient world:
they
are not
us
. Nor are they the same in one period of antiquity as they are in another. So like virtually all other scholarship, it's complicated, and our texts are not univocal. What I think almost all classicists would probably find abjectly absurd
are statements like
, "It should go without saying that upholding a male-female requirement for marriage can and should be a product of a loving desire to avoid the degradation of the gendered self that comes from engaging in homosexual practice."
That Gagnon thinks this statement, so incredibly at odds with consensus in a wide array of disciplines, but most especially gender studies, "goes without saying," while lecturing another author on his perceived ignorance, is stock comic buffoonery at its finest, but such is the world Gagnon is living in.